PlanBay
This page is dedicated to the PlanBay concept which is independent of the EarthBay project.


With the Covid-19 outbreak, for the first time in recent history, the passenger air traffic dropped globally by 90% during a 2 months period. Due to the uncertainty, we need to be resilient and adaptable. Modern aircrafts have efficient air systems that prevent the contagion from one person to the entire passenger population, but the health authorities recommend 1 meter distancing, which is hardly achievable in economy class, even with an empty middle seat.
In order to improve the distancing, I imagined this removable kit for an unused seat, that can be used temporarily for the time of an epidemic outbreak and the recovery phase.
My Plan B proposal is PlanBay (patent pending #FR2004370 )
The goals
Provide a kit solution for an empty seat to increase physical distancing
Easy to produce & low-cost
Quick & easy to install and remove
Maintain the direct view control by the cabin crew
No modification to the seats and compliance with CS25.785 & CS25.853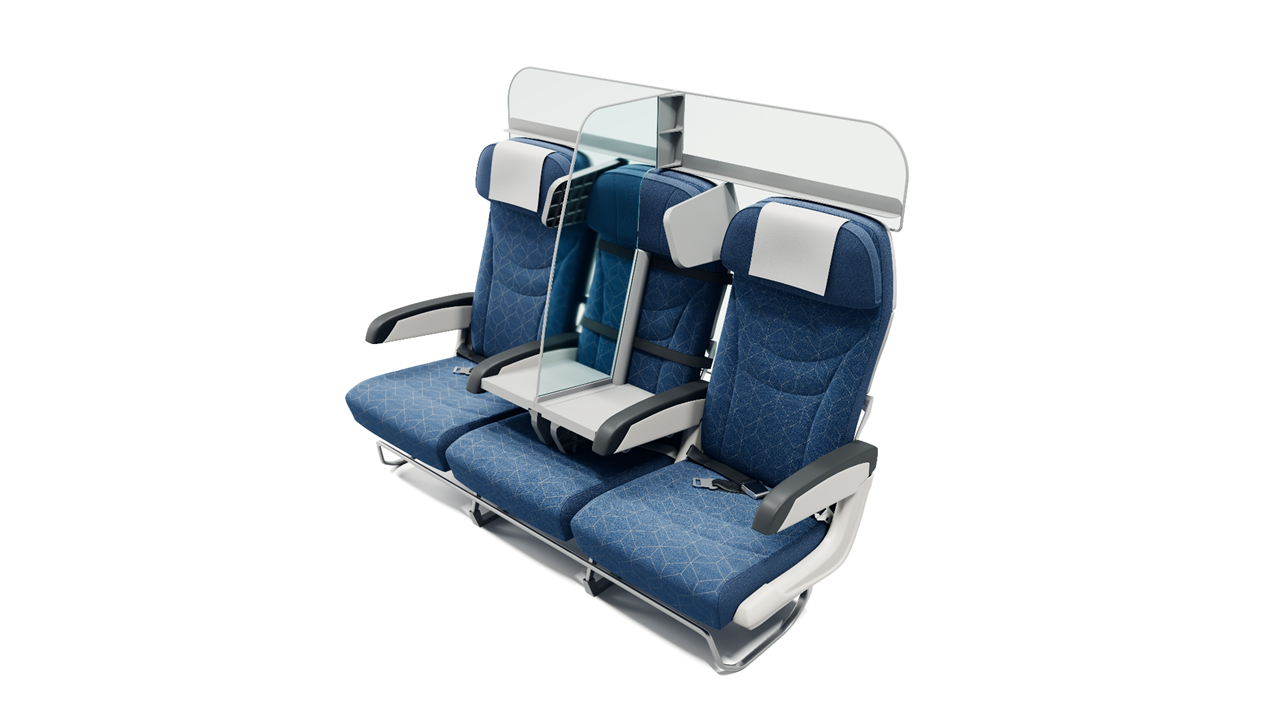 Adapt drawings to the seat model.
Obtain approval from authorities as per CS25.785 & CS25.853 (FAR25 or equivalent).
Production from Plexiglass/Polycarbonate sheets, Alu/plastic profiles, Aluminium machining and/or PEEK 3D printing, elastic straps.
Installation:
Install the Back section.
Up the armrest.
Install the Front section and fasten seat belt.
Lower the armrest till blocking position, the seat cushion is being compressed.
Adjust installation and seat belt.
Assemble the junction fittings.
Control
Next steps
Obtain Airline/Operator interest for the concept
Partnership with aircraft interiors suppliers with production, logistic and certification capabilities
Produce a prototype for the first adopter(s)
Final design & certification
Production & Entry Into Service

Interested to push further? contact us!